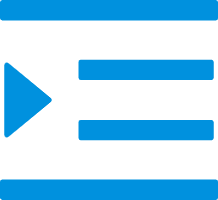 Binder Chains
As a flatbed hauler, you know just how important it is that your cargo is secured down safely and tight. For many truckers, transport chains are their go-to securement option. This makes load binders a necessity! However, some flatbedders may not know how to use chain binders properly and may be unaware that "Binder Chain" is an umbrella term!
There are different types of Binder Chain that work best for specific flatbeds or cargo, which means choosing the end-fittings for your binders or chains is incredibly important! You want to make sure your chains and chain binders are compatible. Binder Chain are very strong and durable and come in a variety of styles and load ratings to ensure you find a binder that will match the type of cargo chain you use. However, the installation of Binder Chain and usage of Binder Chain is the same regardless of the size!
Ratchet Binder Chain
Uses a ratcheting action to create tension in the chain.
Also called a ratchet load binder or a Ratchet Binder Chain, it has two tension hooks on each end and handle.
Because ratchet binders are designed with a gear, handle, pawl, and end fittings, it will not store as much energy in the handle like a lever binder will.
A ratchet-type Ratchet Binder Chain is easier to adjust in finer increments without the snap back effect of a lever binder Chain.
Lever Binder Chain
Uses a leverage action to create tension in the chain and stores kinetic energy in its handle.
Also called a lever chain, lever load binder, or snap binder, it has a tension hook on each end.
This type of Binder Chain generally requires more strength to tighten it.
Lever binders Chain are generally easier to install because it has fewer moving parts.